End-month news October 2023 
End-month news October 2023 jimoharries@gmail.com (queries on finance: peterdavidstagg@yahoo.co.uk )
Dear Friends,
18th October found me at the University of London, SOAS (School of Oriental and African Studies). I presented a lecture. It was a hybrid event. This is probably a typical experience these days – we met in a massive classroom, with only a handful of people physically present. But, unlike in the 'old days', the event was recorded and will be displayed on you tube here when it is ready.
Some discussions about mission to Africa by people from the West are highly discouraging. Some people these days, I was told, think it is appropriate for Western people to cease all mission to Africa entirely. I begged to differ! This latter prescription sounds horrific to me. It is like we are giving up on, and abandoning, Africa. Many people are concerned that Whites not dominate Africa from positions of not-understanding. Thankfully opportunity I was given to advocate for vulnerable mission opened a door to a possible not-dominating alternative to this.
Watch this space – the Centre for World Christianity of the University of London are interested in a round-table discussion on some of the themes that I raised in my lecture. It is wonderful to be able to share the gospel with people in London in this way.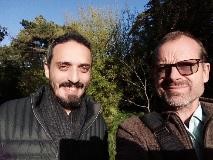 (With an Egyptian colleague Riad taking a stroll after a time at Oxford Centre for Mission Studies.)
Other highlights: I am very grateful to Wantage Baptist Church for allowing me to be a part of their missions' Sunday on 11th October. That was a thanksgiving for my having served in Africa for 35 years, and slightly ahead of time, for my 60th birthday.
I have spent the last few weeks based in Andover in Hampshire. I have been privileged to be able to visit a wide variety of churches in the town, as well as catching up on friendships with many people. I will, God willing, set off back for Kenya on 31st October.
Jim